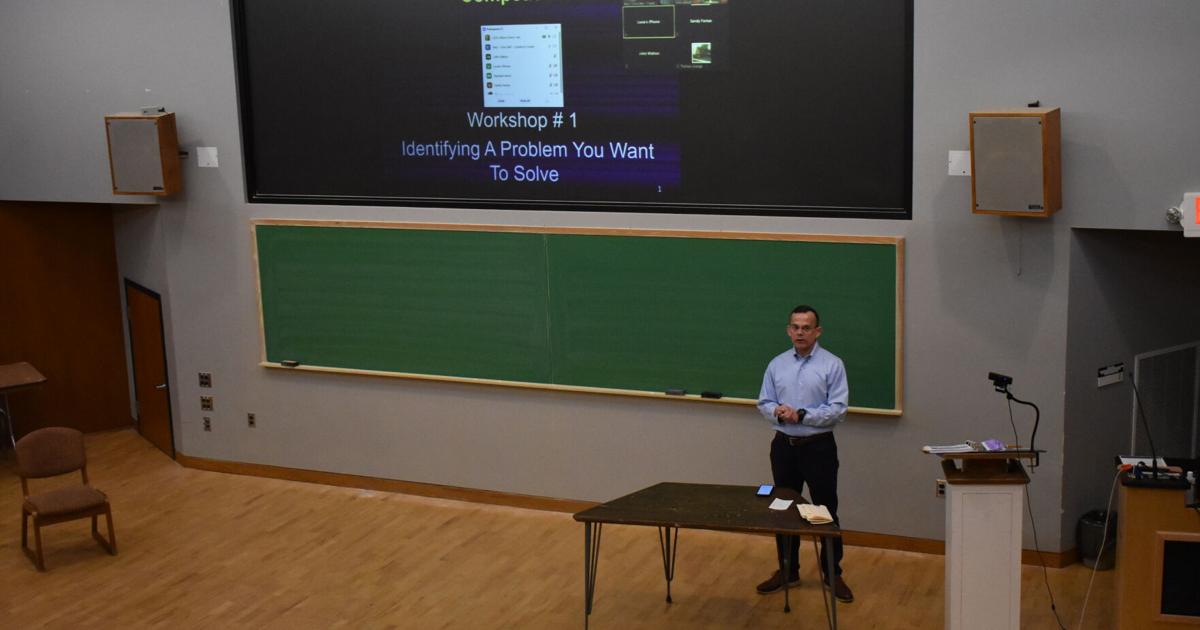 Aspiring local entrepreneurs have reason to celebrate, as Allegheny College's Zingale Big Idea Competition is making its return in full this year following a pandemic-induced hiatus last April.
The competition sees participants pitch business ideas to panels of judges in a manner that organizers have compared to the TV show "Shark Tank," with winning entries splitting a prize pool of money to help get their ideas started.
The contest was last held in full in 2019, with the 2020 iteration canceled due to the start of the COVID-19 pandemic, and the 2021 version held virtually.
The 2022 competition will be an inaugural one for an idea initially planned for 2020. In addition to the student portion of the competition — which involves students from Allegheny, Grove City and Westminster colleges — there will also be a Meadville Community Track for residents in this area, opening up the competition to the wider public for the first time.
Allegheny President Hilary Link said the college was "thrilled" to officially be launching the community track of the competition.
"I'm so excited about this," she said. "Frustrated this is happening two years after we hoped it would, but excited it's moving forward."
Link said she believes Allegheny could be doing more to have a connection with the Meadville community, and sees the competition addition as a step toward that goal.
Similarly excited about the return of the full version of the contest is Chris Allison, entrepreneur-in-residence at Allegheny and one of the lead organizers of the event. He said going into the 2020 competition before its cancellation, the community track had a lot of "momentum," with around 10 to 12 companies set to compete.
Allison said it felt like that momentum had been lost with the cancellation of the 2020 event, and he's hoping to regain that level of enthusiasm.
"We really don't know what we're going to get, how many people are going to be involved," he said.
Another change to the competition this year is in the workshops that run in the weeks leading up to the event itself. Traditionally Allegheny has offered three workshops throughout March and early April to help competitors prepare themselves for making their business pitches.
This year, that number has grown to five, the first of which already took place on March 1. The workshops are offered in Quigley Hall at Allegheny, as well as online through Zoom.
Allison said the decision to increase the number of workshops was to make sure organizers "weren't throwing too much information at people at one time."
"We think having that more iteratively is going to help people be more successful with their entries," he said.
The workshops aren't required for taking part in the competition, but can help attendees in crafting their pitches, with each one focusing on a different aspect of developing a business plan. The next workshop — set to take place Tuesday — is centered around creating solutions to problems that can be solved as a product or service.
Allegheny alumni who have been successful in business will serve as judges for the student track, including Lance Zinagle, for whom the competition is named. Meanwhile, the panel for the community track includes Andy Walker, Allegheny's executive director for economic, civic and community engagement; Rob Smith, Acutec Precision Aerospace Inc. executive chairman; Byron Rich, director of arts, science and innovation at Allegheny; and Brian Slawin, Ben Franklin Technology Partners northwest director and portfolio manager.
There is a $20,000 prize pool for the student track, and a $10,000 prize for the community track, to be split among first-, second- and third-place finishers, as well as any honorable mentions. Allison said the exact amount split up for each finisher may vary depending on the decisions of the judges.
"Sometimes we'll have two first-place winners because there wasn't consensus," he said. "Sometimes we add extra honorable mentions. It all depends on the pool of entries and how they come out."
In addition, the first-place winners will be invited to a consultation visit with Ben Franklin Technology Partners in Erie, which is a Pennsylvania economic development initiative aimed at mentoring and investing in companies during their early stages, particularly tech start-ups or small manufacturers.
Slawin said the consulting sessions are centered around having people experienced in business identify potential weaknesses in an idea and working with the entrepreneurs to solve them.
"Every idea has a gap," he said. "Every business moving forward has a gap somewhere. It's not all perfectly perfect."
Slawin said supporting programs like the Zingale Big Idea Competition is a critical part of Ben Franklin Technology Partners' mission to promote entrepreneurism across Pennsylvania.
Zingale, whose consistent support of the competition led to it being named after him, said he's looking forward to being able to meet with entrepreneurs face-to-face this year after the remote-only contest in 2021.
"It's a much better way to assess their business than remote or through Zoom," he said.
Having consistently been a judge for the competition for many years — the competition has been going on for 15 years, with its first getting the Zingale title in 2018 — he offered some advice to those taking part.
"Creativity alone does not win the competition," he said. "You have to show creativity, a good process, how you'll implement it, and how the financials will work out so it becomes a profitable business."
Anyone looking to take part in the competition can register for it and the workshops by emailing either Allison at [email protected] or Sarah Holt, who is also a leading organizer with Allegheny, at [email protected].
The competition will be held on April 29-30. However, all participants must submit a three-page executive summary, including financials, no later than April 15 to take part.