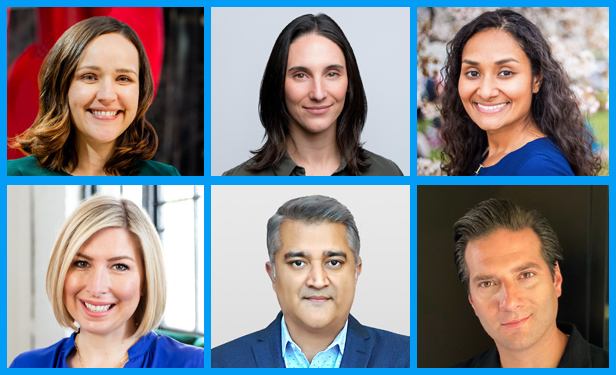 People News: Aria Technology Solutions, Clarion Events NA, Impact XM and More Tap New Leadership, Grow Teams

As the trade show industry continues to regain its footing, event-related organizations across the country are moving full steam ahead in appointing new executives, promoting hard-working team members and welcoming new staff. Check them out!
Aria Technology Solutions
Aria Technology Solutions LLC (Aria AV), providers of audio-visual rental equipment including digital signage, full-service LED video walls and display equipment for the live event industry, recently appointed award-winning sales leader Vishal Goyal to Chief Revenue Officer. 
Bringing extensive experience in the audio-visual rental industry to his new role, Goyal will oversee Aria's revenue-generation strategy and execution, including the introduction of new and innovative technology rentals, brand strategy and integrated digital marketing. He began his professional career in sales and marketing in the pharmaceutical industry, later advancing to executive level roles within the live events industry. 
Clarion Events North America 

 
Clarion Events North America has elevated Executive Vice President Liz Irving to the newly created position of chief marketing officer, a role in which she will focus on further driving customer initiatives, product innovation and technology enablement. Irving has been with Clarion Events since 2016, overseeing event and media marketing, strategy and insights, audience acquisition, digital products, data and analytics.  
According to Greg Topalian, CEO of Clarion Events North America, Irving is known as an instrumental leader who looks for opportunities to grow the company's capabilities by focusing on unlocking customer insights, defining processes and aligning teams for collaboration.
Impact XM 
Global events and experiential marketing agency Impact XM has promoted Jared Pollacco from president to CEO, in which he will continue to be responsible for deciding and pursuing the company's mission, vision and strategy as well as maintain the financial success of the business.  
During his successful tenure as president, Pollacco led Impact XM's transition from a top-of-the line exhibit house to a strategically led, creatively driven event and experiential marketing agency. He started his career with the agency more than 21 years ago, starting as an installation and dismantle supervisor with VMC Group, as well as holding roles including project manager, account manager, director of sales and executive vice president with Aura XM, before becoming president in 2011. 
Impact XM also recently appointed 20-year industry veteran Chad Helmer as vice president, operations, responsible for streamlining the operational processes of the fabrication and warehouse facilities in Impact XM's Dayton, N.J., Las Vegas and Oakville, Ontario locations. Helmer will work closely with the agency's client service, new business development, account management and creative teams to ensure the seamless execution of all client deliverables.  
Before coming to Impact XM, Helmer worked in a variety of sectors with a proven track record of success within trade shows and events, architectural fabrication and experiential marketing. 
VISIT Milwaukee 

 
Chad Chappell has joined the VISIT Milwaukee sales team as a national account executive representing VISIT Milwaukee in the Washington, D.C., market. A hospitality veteran who has spent much of his career in the D.C. area, Chappell brings experience in hotel, DMO, trade show and general service contracting sales to VISIT Milwaukee. He has held sales leadership positions with organizations including the Dallas Convention & Visitors Bureau, Starwood Hotels & Resorts, Visit Baltimore and The Expo Group. 
DAHLIA+Agency

 
Brand, experience and marketing agency DAHLIA+Agency has welcomed event-industry analyst and content strategist Michelle Bruno as a strategic consultant. After collaborating with the agency on a number of projects over the years, her larger role will include working with high-level client organizations and technology firms to raise their visibility in the B2B event space via content, messaging and strategy.  
A prolific journalist, technical marketing writer, event-technology analyst and business event strategist, Bruno has written for major industry publications and publishers, and is an award-winning former meeting planner and conference and exhibition organizer. 
Destinations International 
Sophia Hyder Hock has joined Destinations International as chief diversity officer, responsible for providing leadership, coordination and strategic direction for the design and implementation of an overall equity, diversity and inclusion strategy within the association, across member organizations and the broader tourism industry. She will play an essential role by collaborating with senior management to lead and engage strategic planning and programming development initiatives and opportunities to engage structural change benefitting member communities. 
Hock has spent 20 years developing strategy, training, facilitation and coaching services on diversity and social inclusion topics, gender empowerment, community engagement and outreach, emotional intelligence and cultural awareness for clients in the international development and travel industries. Prior to joining Destinations International, she was the founder and CEO of Papilia, an organization dedicated to developing tailored equity, diversity and inclusion strategies for the travel industry. 
Destinations International also tapped tourism veteran Gretchen Hall as its COO, effective April 1, responsible for the organization's strategic development, implementation, communication and retention of global business and membership initiatives. She will also be a member of the organization's executive leadership team. 
Hall currently serves as president and CEO of the Little Rock Convention and Visitors Bureau, where she leads more than 120 full-time professionals covering all disciplines in sales and services, facility operations, marketing and communications and finance and administration. Her last day with the CVB will be March 22, 2022. She also served as Destinations International's board chair for the 2021-2022 term, a role she stepped down from before accepting the COO position.
Oklahoma City Convention & Visitors Bureau 
The Oklahoma City Convention and Visitors Bureau (OKC CVB) recently added three new staff members to its team.  
April Smith joined the CVB as a convention sales manager, focused on bringing meetings to Oklahoma City. Prior to joining the OKC CVB, Smith held various hotel leadership positions with Raymond Management Company in operations and sales over the past 16 years. 
The OKC CVB also recently welcomed Jenna Mazzoccoli to the marketing team as communications manager. Prior to working with the OKC CVB, she was on the editorial staff at the Buzz Magazines in Houston, Texas.   
In her new role as convention services manager, Katie Brickman will assist meeting planners with logistics and servicing needs for incoming meetings and conventions. Prior to joining the CVB, Brickman was an inside sales representative at Paycom. She also spent two years as the event rentals manager at the Myriad Botanical Gardens.  
SearchWide Global 
Kathryn Millard recently joined full-service executive search firm SearchWide Global as an executive recruiter to assist with hotel and resort searches and business development initiatives. She will support Global Vice President John Brich, who leads SearchWide Global's hotel and resort practice. Based in Amelia Island, Fla., Millard brings 14 years of hotel and resort experience to her new role, including The Ritz-Carlton, Amelia Island, Omni Amelia Island and most recently, the W South Beach as a senior sales executive. 
National Grocers Association

 
Washington, D.C.-based National Grocers Association (NGA) recently made several staff promotions and title updates.
Maggie White is now the senior director of the NGA Foundation, responsible for leading efforts to expand the Foundation's supporter base and identify new opportunities to enhance its programs and offerings. Over the past two years as director, White has helped rejuvenate and grow the Foundation's programs and services, while increasing the awareness of the organization, especially during the pandemic. 
Robert Yeakel has been promoted to senior director of government relations, in which he will oversee day-to-day management of the department, as well as help to develop and execute a successful strategy to achieve NGA's legislative and regulatory goals.  
Mary Whitehead is now senior manager of marketing, taking on an expanded role in integrated marketing campaign creation and execution to drive growth across NGA's programs and initiatives. She also will be responsible for managing the production of NGA's marketing assets and tools that elevate a cohesive brand awareness for the association. 
LaKesha Gathers-Flowers is now senior manager, executive office and board liaison. She will continue to manage the executive office and take a greater role in supporting NGA Board of Directors operations. 
Marvelle Wright has been promoted from specialist, accounts receivable and payable, to manager, accounting transactions and member support. In her new position, Wright will take on a greater role in member support for the organization. 
With an updated title of senior vice president of membership and industry relations, Jonathan Downey will oversee NGA's membership department with a focus on growing membership across all three of NGA's membership categories: retailer, wholesaler and associate.
Fort Worth Convention Center
Experienced hospitality services professional Shanda Cartwright has joined the Fort Worth Convention Center (FWCC) sales team as sales and events manager, focused on corporate and local business and responsible for increasing the venue's share of local meetings, events and galas. She brings wide-ranging experience in sports, entertainment, hotels, events and catering, in addition to her knowledge of the market, to her new position.
Cartwright began her career with Spurs Sports & Entertainment in San Antonio before moving to the Broadmoor Hotel and Resort in Colorado Springs and then the Denver Broncos. She returned to Texas to help open the Cowboys (now AT&T) Stadium and work with the Mavs at American Airlines Center on the 2010 NBA All-Star tournament. She has also worked in sales and event management at Billy Bob's Texas, Las Colinas Country Club, The Fort Worth Club and Trinity Food & Beverage, the FWCC's exclusive catering and concessions provider. 
Visit Omaha 

 
Visit Omaha has been busy promoting and hiring new staff in its sales, marketing and visitor services departments.  
An employee of Visit Omaha for the past seven years, Erin O'Brien has been promoted to director of marketing and content, responsible for overseeing the execution of Omaha's digital brand and presence. She joined the CVB in 2014 as social media manager, and prior to Visit Omaha, worked for the Omaha Public Library and the Tallahassee Democrat, a Florida newspaper.  
Noelle Agenor has been appointed social media manager, responsible for developing and executing campaigns for Visit Omaha's social media platforms. She brings five years of experience in marketing and graphic design to the CVB's team. 
As the newest member of the Visit Omaha convention sales team, Patrick Keele will be the organization's new research analyst, helping the team evaluate convention and group tour opportunities. With more than six years in hospitality, he previously worked for Caesar's Entertainment as a marketing campaign supervisor.
As the new director of visitor services, Shannon Wiig will manage the Omaha Visitors Center and develop visitor experience programs. Bringing more than 20 years of experience in customer-driven insights, marketing and brand-building communications to her new role, she joins Visit Omaha from First National Bank, where she served as a senior brand manager. Wiig previously worked at ConAgra Foods as a consumer insights manager, leading research and customer experience efforts.
Have any People News to share? Please send announcements and high-resolution headshots to [email protected].
Don't miss any event-related news: Sign up for our weekly e-newsletter HERE and engage with us on Twitter, Facebook, LinkedIn and Instagram!