[ad_1]

When it comes to creating great email campaigns, every minute matters. Our integrations help email marketers save time and streamline their workflow. With Litmus' Salesforce Marketing Cloud (SFMC) integrations, you can test personalized, dynamic content as you build within Email Studio and easily analyze campaign performance—creating more effective emails, faster.
"With the Litmus Salesforce Marketing Cloud integration, we've cut our email QA time by over 50%, giving us time to focus our efforts on segmentation and other strategic campaign development opportunities."

— Adam MacDonald, Director of Campaign Management, DEG, Linked by Isobar
Learn more →
Let's take a look at the integrations we offer with Salesforce Marketing Cloud (SFMC):
How does Litmus integrate with SFMC?
By combining the power of Litmus and SFMC, marketing teams can collaborate more efficiently. Test emails within SFMC, sync your SFMC code as you build in Litmus Builder, and simultaneously test as you build without the need to jump between tools.
1. Test emails directly in SFMC Email Studio
Users can test emails right within SFMC Email Studio and wherever Content Builder and Journey Builder are used. Our integration allows you to test individual personalization at the subscriber level with integrated email previews within SFMC.
How does it work?
Head to "Preview & Test" step and select the Litmus icon. From there, you can toggle between individual subscribers to see how personalization will render at the subscriber level.
You can test dynamic content both with the in-app SFMC integration and Litmus Extension. You can even preview how your email will render across 100+ popular email clients and devices.
Here's the Litmus SFMC In-App Integration in action:
Friendly heads-up: This one's exclusive to Litmus Enterprise plans.
2. Get powerful, holistic insights with Litmus Integrated Insights
Litmus Integrated Insights leverages data from both SFMC and Litmus, giving you access to actionable insights—all in one view. Quickly identify opportunities to improve results with key email performance indicators that help you keep your finger on the pulse of your email program—without manual effort or analysis.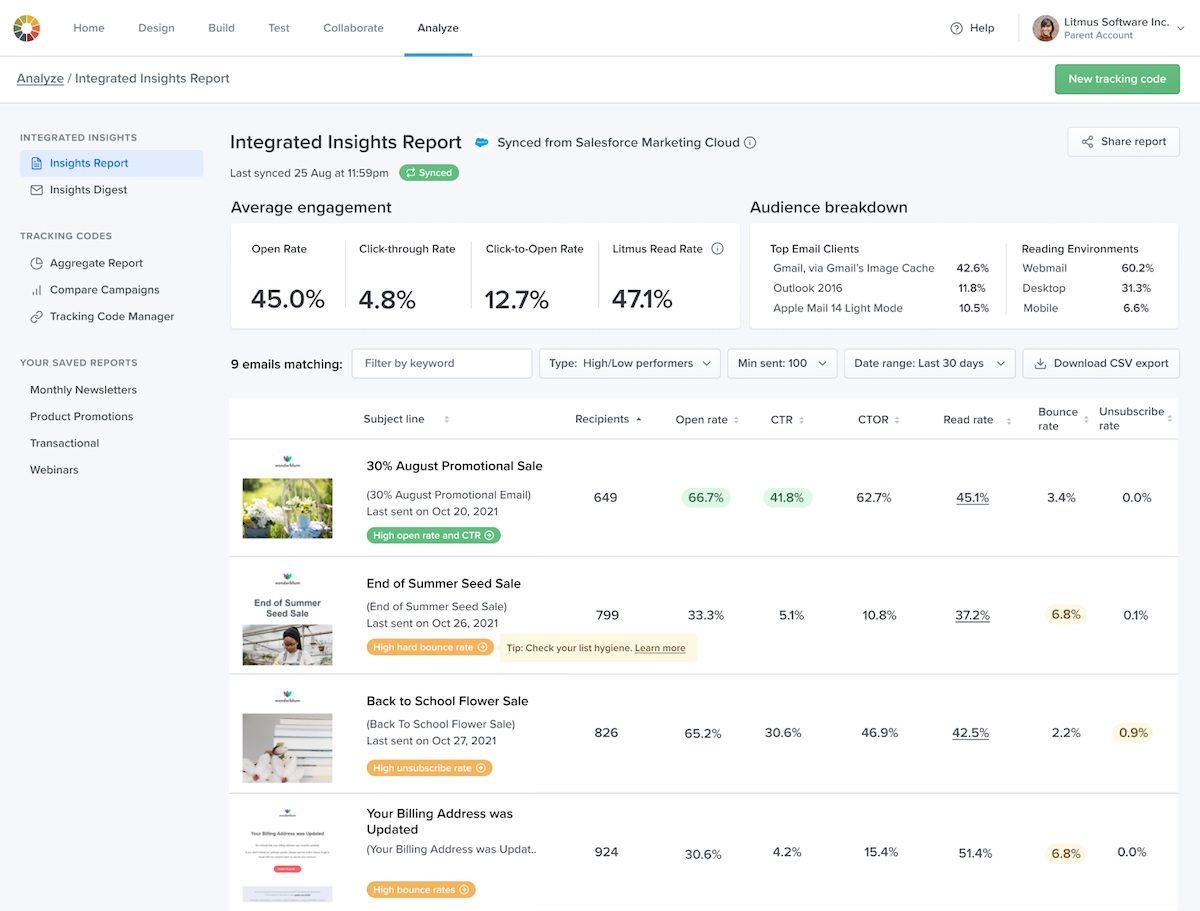 How does it work?
Litmus Integrated Insights combines email performance data from SFMC as well as subscriber engagement data from Litmus. With this at-a-glance view, you can quickly identify opportunities to improve your campaign results, without switching tools.
Additionally, get actionable subscriber insights delivered to your inbox. The Litmus Insights Digest—a weekly summary of email engagement—makes it easy to stay on top of subscriber trends and behaviors. Every week, you'll get sent your top subject lines and the most engaging content from your email campaigns in the past week right in your inbox. Plus, get a snapshot of key email performance highlights that help keep your finger on the pulse of your email program.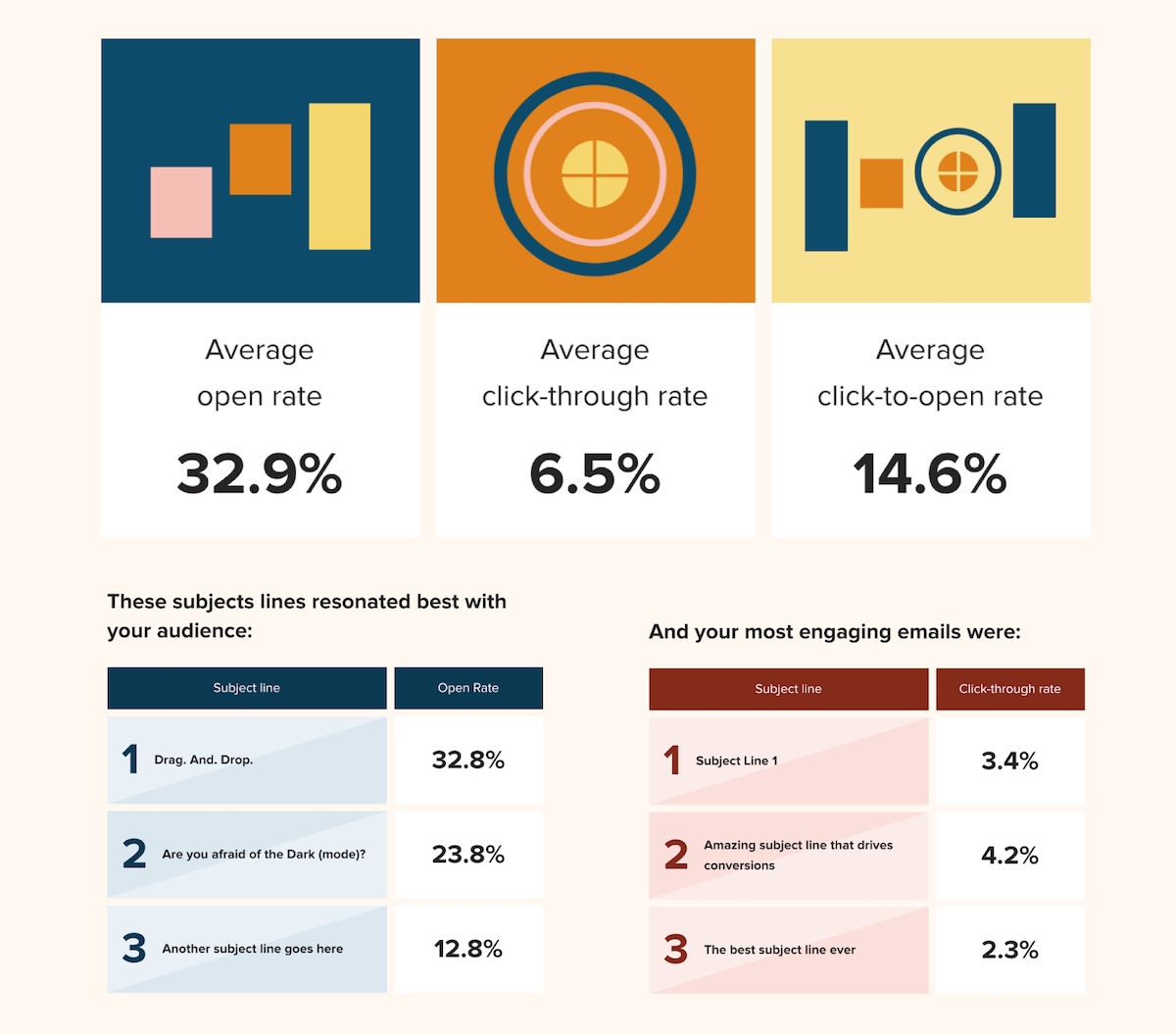 Friendly heads-up: This one's exclusive to Litmus Enterprise plans.
3. Sync your SFMC code with Litmus
Copying and pasting email code is time-consuming and leaves room for errors. With Litmus ESP Sync, you can say goodbye to the manual copy and paste process and keep your code up to date in your ESP as you build in Litmus Builder.
If you prefer to build within your SFMC, Litmus ESP Sync lets you import your email in a single click to Litmus for collaborative reviewing and testing.
How does it work?
ESP Sync lets users build, review, and test emails in Litmus without having to manually transfer code and image assets between Litmus and SFMC. You can also sync to specific folders to stay organized, and also easily pull in HTML from SFMC to review in Litmus Proof, Previews & QA, or Spam Testing.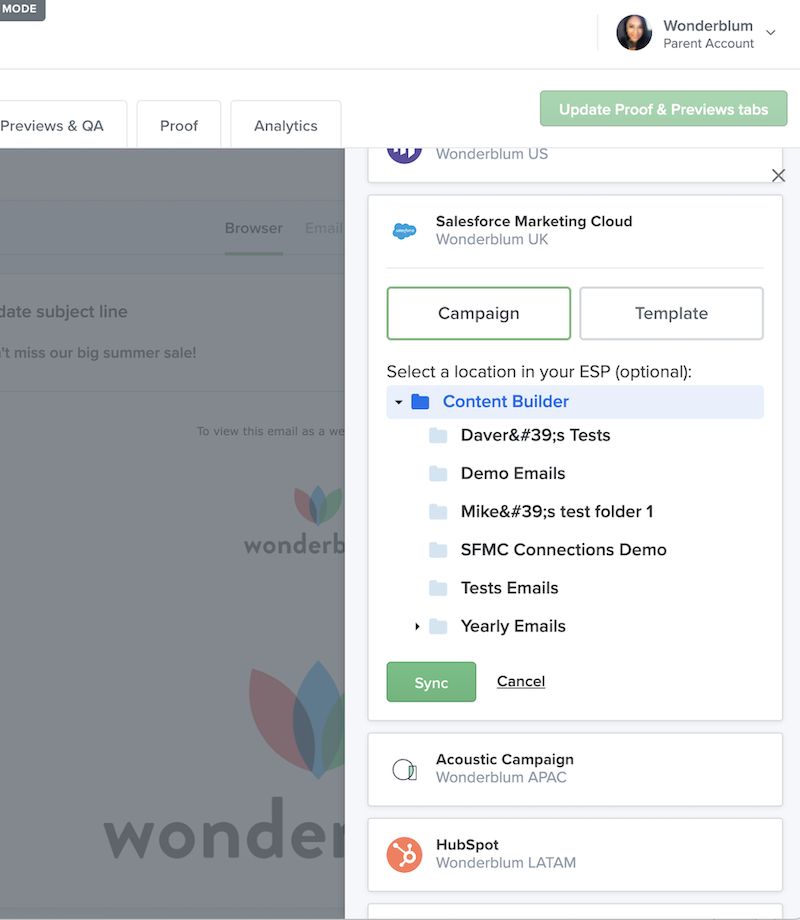 Friendly heads-up: This one's exclusive to Litmus Enterprise plans.
4. Test as you build with Litmus Extension
Litmus Extension streamlines the process of testing your emails as you build, through a Chrome browser extension. By eliminating the need to move between multiple applications, you can save time in your email production workflow.
With a single click, you can test each version of your email.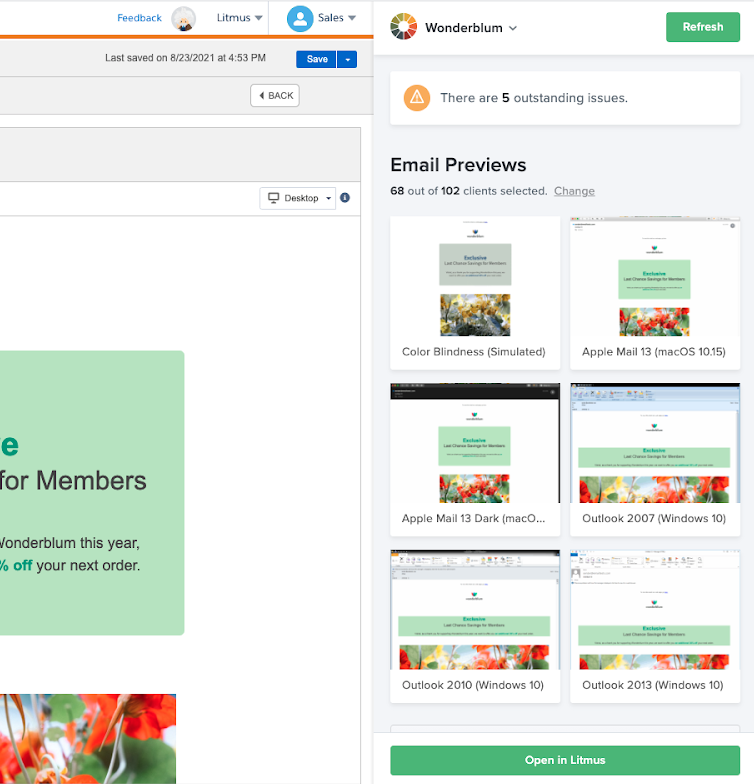 How does it work?
Within the Content Editor, you can select blocks of dynamic content within the email.
From there, run Litmus Extension to test how your email renders across popular email clients, and check links, tracking, image blocking, and loading speed.
Choose another dynamic content block or "rule" to toggle between versions and run Litmus Extensions again. All in one click—you can test each version!
Here's Litmus Extension in action:
Friendly heads-up: This one's exclusive to all plans, but users must have a Litmus Enterprise plan to use alongside SFMC.
Make the most out of your SFMC investment
Litmus helps SFMC users get the most out of their investment. Create more effective emails faster—all while collaborating more efficiently.
Wondering how other brands use Salesforce Marketing Cloud with Litmus? Head over to our customer success stories from Emerson Comfort Control, DEG, Linked by Isobar, and Atlantis Dubai to learn more.
Integrate Litmus with your tech stack

Cut testing time by 50%, and wave goodbye to inefficient processes. Combine your email marketing tools into one seamless workflow.

Optimize your emails

Originally published on July 9, 2018, by Bettina Specht. Last updated June 3, 2022.
[ad_2]

Source link